Y.O.U. Fest Result 2018
BHARATNATYAM

GROUP
NAME OF THE PARTICIPANT
PLACE
GROUP B
ANJALI SADEESH BINDIA
FIRST
GROUP C
SHREYA MANGESH
FIRST
MOHINIYATTAM

GROUP
NAME OF THE PARTICIPANT
PLACE
GROUP A
CAROLINE ANN SONY
FIRST
GROUP B
EVA SAM
SECOND
GROUP B
ANJALI SADEESH BINDIA
FIRST
GROUP C
SHREYA MANGESH
FIRST

FOLK DANCE

GROUP
NAME OF THE PARTICIPANT
PLACE
GROUP B
EVA SAM
SECOND
GROUP C
SHREYA MANGESH
FIRST

FANCY DRESS

GROUP
NAME OF THE PARTICIPANT
PLACE
GROUP A
MOHAMMED ISHAAN
FIRST
GROUP C
ASHIK LEO BABU
THIRD

LIGHT MUSIC

GROUP
NAME OF THE PARTICIPANT
PLACE
GRPUP C
SHIVA GANGA SUDHEER
SECOND
POEM RECITATION IN ENGLISH
GROUP
NAME OF THE PARTICIPANT
PLACE
GROUP B
CARLYN MARIA GEORGE
SECOND

ELOCUTION IN ENGLISH

GROUP A
KEERTHI BALASUBRAMANIAN
 THIRD
SHORT STORY WRITING ENGLISH
GROUP
NAME OF THE PARTICIPANT
PLACE
GROUP B
RIYA SUNIL
FIRST
GROUP B
FARZANA HUSSAIN
SECOND

SHORT STORY WRITING MALAYALAM

GROUP
NAME OF THE PARTICIPANT
PLACE
GROUP B
AMRITHA REJI SANTHOSH
SECOND
GROUP C
KRISHNA REJI
FIRST

PENCIL DRAWING

GROUP
NAME OF THE PARTICIPANT
PLACE
GROUP C
KARAMJIT SINGH
FIRST
CARTOON DRAWING
GROUP C
CHRISTEENA  SAJU
SECOND
ACRILIC PAINTING
GROUP A
DEVA PRIYA
FIRST
GROUP C
HUDA MOHAMED SADDIK
SECOND

WATER COLOUR

GROUP A
CAROLINE ANN SONY
THIRD
GROUP EVENTS
GROUP
NAME OF THE ITEM
PLACE
GROUP B
MIME
THIRD
GROUP B
FOLK DANCE
THIRD
GROUP C
CINEMATIC DANCE
SECOND
Su'aal Ramadan Quiz 2018
On 26th May 2018, a quiz competition was conducted for the students of classes IX to XII of RAK Zone. Nearly 300 students participated Master. Nidhal Ashraf of class XI A of IPHS has secured the Second Prize. He was awarded with Certificate, Cash prize and a Memento. Kudos to Nidhal!
LITTLE GENIUS 'MAP YOUR THOUGHTS' @ IPHS
'Map your Thoughts' an activity on Drawing and Colouring for classes III & IV was organized by 'Little Genius' on Tuesday, 8th May 2018 on the theme   Mother's Day. 16 students were selected for the final round which was conducted on Thursday, 24th May 2018 on the theme 'Ramadan'. The final results were announced and 6 winners were awarded certificates, Trophies & Gifts by the organizer on 12th June 2018. Winners' art works were published in the Little Genius Magazine in the June edition.
IPHS participates in Swimming Competition @ RAK Hotel
RAK HOTEL organized a Swimming Competition for the students of different age groups on 7th and 8th June 2018. IPHS students won prizes in all categories. Congratulations to the Winners !! 
POSITION
NAME OF THE WINNER
ITEM
FIRST PLACE
Saif Sajad Shah

(Class VII A)

Free style  20 Mtr

(Category- Under Age 16)

FIRST PLACE
Mahi Sangtani

(Class VI D)

Free style 10 Mtr

(Category- Under 11 years)

SECOND PLACE
Mahi Sangtani

(Class VI D)

Free style 20 Mtr

(Category- Under 13 years)
IPHS participates in Earth Hour School Art Exhibition
IPHS participated in the Earth Hour School Art Exhibition from 22nd till 29th March 2018. This was part of RAK Green School Programme organised by Government of RAK Waste Management Authority. An array of articles was for display that was made from recycled materials. Miss. Shivaganga Sudheer of class IX D bagged the first prize for a working model on Solar Energy.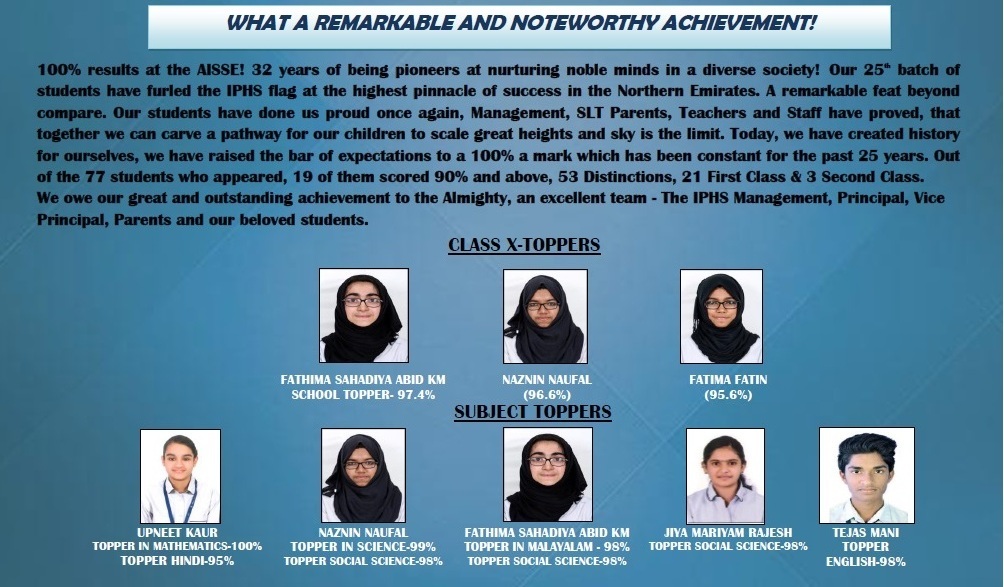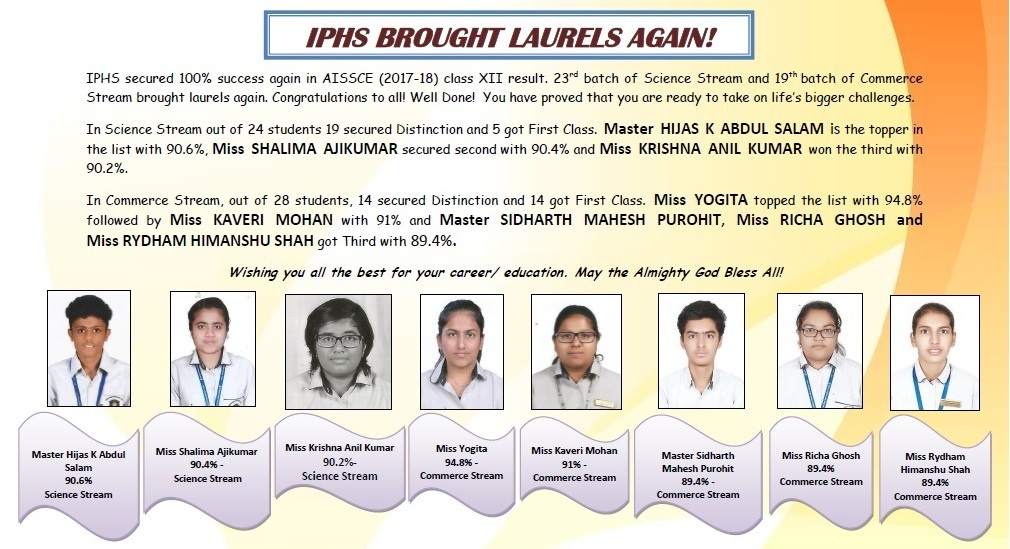 Chethana Competition 2018
Chethana, RAK the socio-cultural organization conducted a Drawing & Colouring Competition on 4th May 2018 and a Quiz programme — "Ras Al Khaimah Interschool Quiz Competition on 11th May 2018. Our students performed very well in the competition.  Joanne Elizabath of KG2 F secured First prize and Fareeha  Aalinakhan of KG2 B won second prize  in the Drawing & Colouring competition. In the Sub-Junior category  Vani Yadav of class III E got second prize. In the Quiz Competition Junior Level, Ishan Vijith of class VA and Saaranya Mukherjee of class VID secured 3rd Prize. In the Super Senior Level Niranjan KP of class XA secured 3rd Prize. A laurel to the achievements of  IPHS.
National Mathematics Olympiad Contest 2017 -18
The students of IPHS, RAK brought laurels to the school by their outstanding performance in the National Mathematics Olympiad Contest: 2017 – '18. 34 students of Primary & Senior Section students were awarded with medals and certificates for securing 90% and above marks in the contest. Master. Shuban Mukesh Pardeshi of class-I scored 100% in the contest. Special certificate and a shield will be awarded to him by the AISMTA. Congratulations to all the winners for their meritorious performance. We wish our students all the very best to continue their praiseworthy performances in the future events too.
RESULT OF ASSET 2017

RESULT OF TIMSS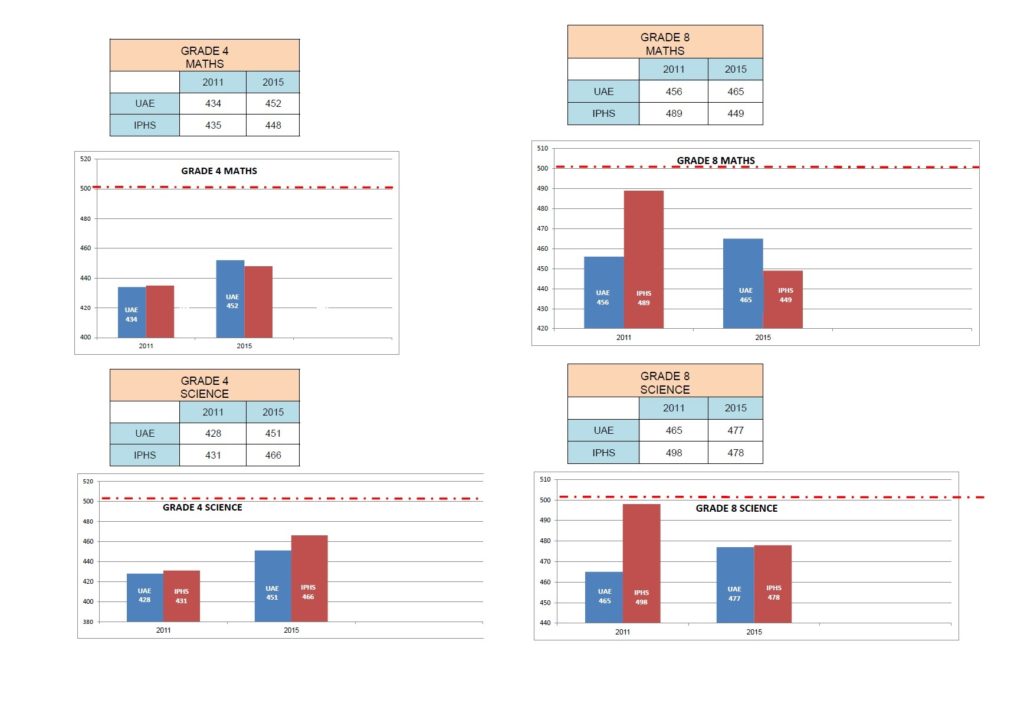 RESULT OF PISA 2012