The school campus and facilities have been specifically designed to enhance teaching and learning, providing a bright, well-resourced, and motivational environment for our students.
Classrooms 
Classrooms are equipped with new technology like SmartBoards with an internet connection to enable the students to participate in the learning process. The school makes sure that the atmosphere of classrooms is good enough for students to spend their day in. Activity-based learning coupled with highly personalized care and attention has made the school a learners paradise where a healthy student-teacher ratio is maintained.
Science Laboratories
In accordance with the CBSE curriculum, the school has distinct and separate science laboratories for practical sessions in Physics, Chemistry, Biology, and Computer. The labs are spacious and offer modern and excellent equipment where our students are encouraged to use their analytical and creative skills through research and experimentation.
The Library
The school has a spacious and well-resourced library that provides students with opportunities to discover the enchanting world of knowledge. Our rich collection of books is updated regularly and students are encouraged to make full use of this facility to develop a love for books. Our library has an extensive range of books, materials, resources, and LED TV.
Medical Facility
Safety and security of the students is the prime motive at the school. A well-trained and experienced full-time nurse addresses the immediate medical needs of the learners. A health card is maintained for each child. Regular medical checkups and immunization are done in the clinic. All cases of injury or illness receive immediate medical attention.
Sports
Sports and games play a vital role in developing the overall personality of a student by nurturing his/her self-esteem and self-worth. It is imperative in creating a congenial learning environment. Specialized coaches/Instructors constantly guide and motivate the students. The Basket Ball Court and Football court provide ample space for them to get trained. The shaded playing area in the outdoor courtyard on the school campus is an attractive arena for both play and activities.
Enrichment Activities
Clubs have an important role to play in enriching the curriculum. The aim is to conceive the concept of STEM Education Coalition 2016 with the objective of molding the children to use their knowledge and intelligence to shape their notions in a novel and effective way with the efficient scaffolding done by the faculties.
Special Activities
Martial Arts (for boys of Grade IV – VIII)·
Aerodance (for girls of grade IV – VIII)·
Yoga for all students of grade VII –X is organized and practiced during regular school hours.
In-House Therapy Facility
IPHS has established an in-house therapy service center, an initiative to facilitate the process and procedure of inclusion. The center will cater to the needs of those IPHS students, who require additional support in their education and behavior at school.
The center will be operational on Monday, Wednesday, and Thursday under the supervision of a visiting psychologist and a full-time therapist who will conduct a one-to-one session, providing individual attention to students who require special attention in their educational needs. Cambridge Center Consulting and Training of Family-Ras Al Khaimah is our service provider.
Parent Portal Services
Parent Portal has been updated and designed to improve home / school communication so as to allow parents to take a more responsible view of their child's progress and overall development at school
After you have logged in to the Parent Portal, you will be able to access your child's circulars, announcements, attendance, fee details, assignments, school-home communication etc. SMS facility is also available so that instant updates and information reach the parents in real time.
*** Parent Portal Service is also available through the mobile app.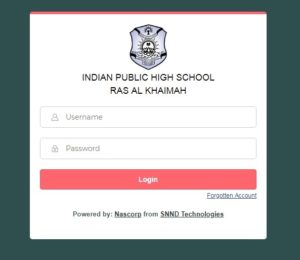 CCTV Surveillance
 The safety and security of the students being our utmost priority, we have installed the C.C.T.V Surveillance system. It is a highly effective and important means to avoid all chances of mishap.